Dimensions are given in centimeters (cm). The values in the table are the dimensions of the body.
| | |
| --- | --- |
| Total length (+/- 1,5 cm) | front 69 cm, back 76 cm |
| Długość całkowita (największy rozmiar) +/- 1,5 cm | przód 76 cm / tył 84 cm |
| Material | 94% viscose, 6% elastane |
Czas realizacji zamówień w naszym sklepie wynosi 2-7 dni roboczych. Zastanawiacie się pewnie dlaczego tak długo?

Zawsze staramy się realizować Wasze zamówienia możliwie najszybciej, ale w niektórych sytuacjach, np. w czasie trwania promocji, czas realizacji może się wydłużyć do 10 dni roboczych.

Nasza firma jak już pewnie wiecie jest firma rodzinną. Bardzo ważną sprawą jest dla nas dbanie o pracowników, klientów oraz o środowisko. Produkty, które zamawiacie w naszym sklepie tworzymy w większości specjalnie dla Was. Unikamy w ten sposób masowego szycia i nadprodukcji. Tworzymy rzeczy, których potrzebujecie, dbając o to, aby długo Wam służyły. Chcielibyśmy więc przybliżyć Wam proces obsługi zamówień:

Krok 1. Przyjęcie Twojego zamówienia
Krok 2. Zaplanowanie krojenia.
Krok 3. Produkcja, czyli szycie.
Krok 4. Prasowanie oraz wstępna kontrola jakości.
Krok 5. Twój produkt trafia do brakarki, czyli osoby odpowiedzialnej za jakość oraz estetykę wyrobu (np. czyszczenie z pozostałości nitek).
Krok 6. Kompletowanie Twojego zamówienia
Krok 7. Pakowanie oraz ostateczna kontrola jakości.
Krok 8. Przekazanie paczki kurierowi
Krok 9. Dostawa do Ciebie 1-2 dni.


Dokładamy wszelkich starań aby czas oczekiwania był jak najkrótszy poprzez dobrą organizację pracy. Wasze ubrania powstają w miłej atmosferze dzięki ludziom, którzy są z nami od wielu lat. Tworzymy zgrany zespół :)
Doświadczenie

Jesteśmy firma rodzinną. Początki naszej działalności sięgają 1988 roku. Lental jest zastrzeżonym znakiem towarowym zarejestrowanym w 1996 roku. W roku 2021 marka Lental obchodzi 25 urodziny! Tworzymy modę przez tyle lat dzięki Państwa zaufaniu. Specjalizujemy się w produkcji odzieży damskiej, głównie z dzianin, przeznaczonej na różne okazje. W naszej ofercie znajdują się zarówno modele klasyczne, codzienne jak i nadążające za bieżącymi trendami.
Jakość

Wyróżnia nas wysoka jakość produktów. Nasz firma to zespół doświadczonych pracowników, którzy na każdym etapie produkcji z zaangażowaniem dbają o najwyższy standard przygotowania produktów dla Państwa. Dużą wagę przykładamy do konstrukcji, aby każda kobieta czuła się w naszych ubraniach komfortowo i atrakcyjnie. Uważnie dobieramy materiały od sprawdzonych dostawców. Dzianiny posiadaja certyfikat Oeko-Tex Standard 100, który jest uznawanym na całym świecie znakiem jakości tkanin, dzianin wykonanych wyłącznie z materiałów nieszkodliwych dla zdrowia. Dbamy o staranność szycia i wykończenia każdej sztuki odzieży.
Polska marka
Wszystkie produkty marki Lental są uszte w Polsce, w naszej szwalni w Głownie. Wybierając polskie marki wspierasz polskie przedsiębiorstwa oraz miejsca pracy. Dziękujemy ❤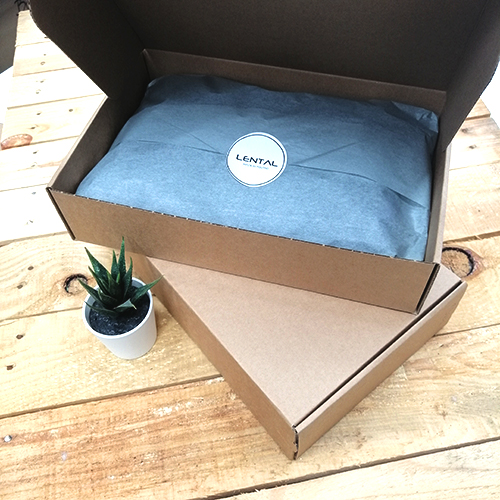 Pakujemy ekologicznie
Troszczymy się o planetę i wciąż staramy się minimalizować wpływ na środowisko. W tym celu całkowicie zrezygnowaliśmy z używania foliowych taśm klejących oraz folii do pakowania. Nasze produkty pakujemy w pergamin i wysyłamy w kartonowych pudełkach z recyklingu. Proces przygotowania Waszych zamówień odbywa się całkowicie drogą elektroniczną, bez użycia papieru.